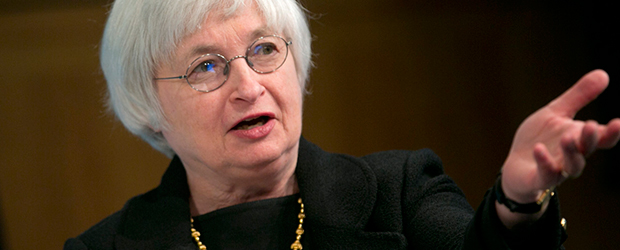 This week EURUSD was one step away from the important resistance area – 1.14. Bulls were feeling lack of informational reason to push the pair against that level – no important news were released on Friday both from the USA and Eurozone. Even not taking this physiological level, the Dollar's retreat looks more like capitulation. Market participants are more and more confident about the feeling that Fed reserve will not tighten the policy this year, especially in September. Meanwhile Fed officials, conversely, say more often that they should not exclude such event. Minutes of July FOMC meeting eventually caused the wave of weakening of the American currency, since the investors identified too many hesitations in the capacity of the US economy to carry over one more policy tightening. In that context, the public speaking by Yellen and other Fed representatives, that will take place in Jackson Hall at the end of this weak, may reverse the mood of the market. Either, it may conversely confirm finally the recession of the American currency.
The unsuccessful beginning of the week of the British pound, which returned to its July lows, turned into quite unexpected reversal. Inflation, employment and retail sales released last week – all data represent July, after Brexit referendum period. It was hard to find weak moments in these reports, so the British pound rallied time after time on the news release. Pound managed to come back above 1.30 (the week closed at 1.3075).
The pair USDJPY continued its decline inside the downtrend range. The market participants are waiting the moment when Government or Ministry of Finance announces their dissatisfaction about current rate of the currency and threats of interventions or further policy easing. The further it goes, the more situation resembles the waiting of a miracle. The pair stopped to grow along with the stock markets, since they use already euro as well for the funding, and not only yen. The lower boundary of the downtrend channel will pass through 97.50 at the end of the coming week. The above is close to consolidation area from the end of 2013. In case bears manage to push steadily the pair below 100, that levels will be the next target for the pair.
Oil could return to the bullish market phase, gained more than 23% to the lows of the beginning of August. Any information is considered as a support idea for oil buying. Traders are concerned especially by the possible production limitations by OPEC countries and other big oil-producers (which did not happen in Spring), but the news about short cut in oil inventories from the USA were accepted positively. At the same time, the following facts are ignored: another increase of active drilling units, record levels of inventories in the USA and record volumes of production in Saudi Arabia along with the continued production grow in Iran. It is rational to be cautious with oil in order not get into extremely high volatility periods.